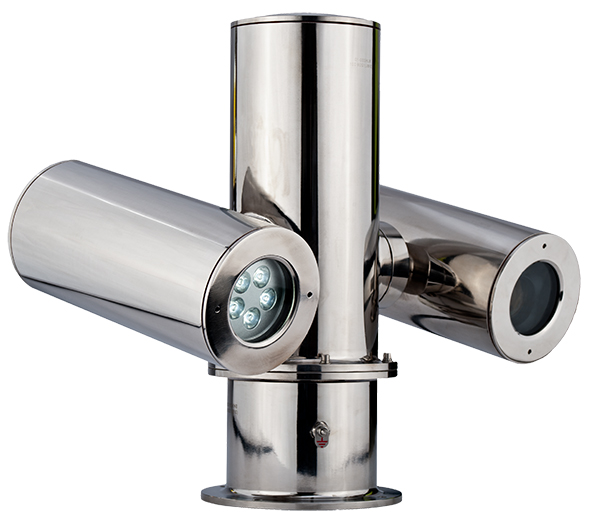 The decision to purchase an explosion-proof camera requires multiple businesses to make several considerations ranging from financial to logistical. Here are five questions to ask before you make your purchase.
Will it integrate with my current video management system? You should research the manufacturer and their stance on interoperability when choosing video equipment.  A manufacturer who adopts an open platform and chooses to build strategic alliances and partnerships with other video providers will undoubtedly be the optimal choice. This will lead to a more robust product offering that leverages your existing system and reduces the initial investment.
Why are product certifications important? Certifications play a vital role in verifying that a camera has passed the required performance tests in key hazardous locations.  It is important to choose a product that has a robust offering of hazardous location certifications since not all regions or countries accept the same accreditations.  Understanding the intricacies of each certification will also assist in your search.
How important is visibility at night? There are many IP video camera manufacturers that tout how effective their products are in less-than-ideal lighting conditions—most will offer reduced visibility past 100 feet. If video quality needs to be maintained during the night or in challenging lighting conditions, choose a camera that has up to 130db WDR and an IR illuminator that synchronizes with the camera.
How much maintenance will the camera require? Maintenance in hazardous environments is expensive. You want to look for a camera with the highest level of reliability that has features which minimize required maintenance such as Direct Drive technology. This technology does not rely on belts, pullies, or gears, and will minimize future adjustments and repairs.
In which environments will the camera operate?  Compared to most IP video cameras, explosion-proof cameras are one of the most expensive investments you can make.  You need to understand how this camera will operate in harsh conditions i.e. hurricanes, freezing temperatures, extremely hot temperatures, etc. How reliable are its internal components?