Long queues at the entry points and bottlenecks in entry processes are now a thing of the past as our Comprehensive Visitor Management Solution allows you to control the Visitor Inflow and Outflow with ease.
We would like to introduce our system which is integrated with Emirates ID, and supports Arabic and English Interfaces. Allows organizations to automate the entire process of registering the visitors and capturing the detailed information along with Photographs in seconds by simply automatically reading the details from Emirates ID.
Our Comprehensive Visitor Management Solutionenables companies to migrate from conventional "Note and Pen" approach (used by Security staff) to an automated system that standardizes the Visitor Management Process with reliable database, multi-functional reports and complete automation.
Many companies are adopting ways to enhance VISITORSEXPERIENCE while strengthening their internal documentation and control system with regard to visitors.  Our product exactly addresses this need.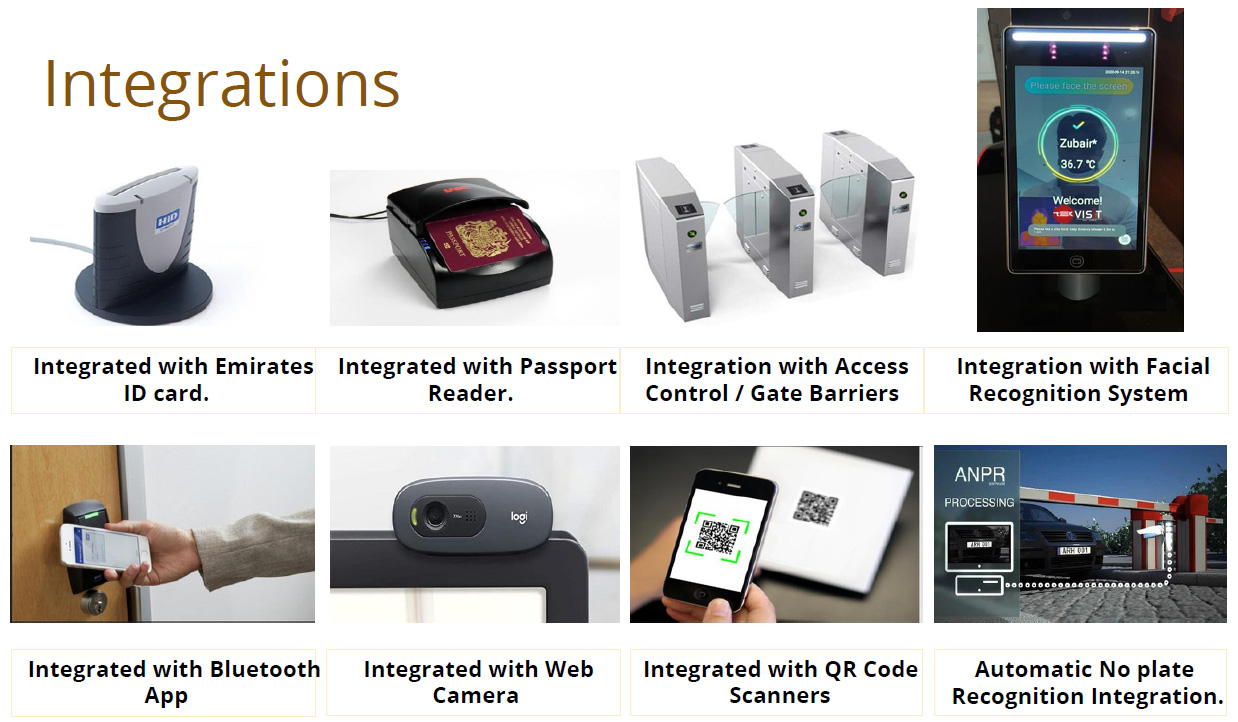 Advantages of Implementing Visitor Management Solution:
Automated and contactless customer registration at the visitor gate (Registration can be done by the security staff).
Printed Visitor's Pass (the pass can also be emailed or sent to the customer's mobile as WhatsApp).Does away with maintaining visitor tokens or passes.
Verification of Visitor Identity through OTP to the mobile.
Capturing visitor photos.
Auto-fill of visitor data for regular visitors (Neither the customer nor the security guard need to refill customer info when he visits again).
Recording of Visitor Temperature (Covid 19 feature- Enabled with third party devices).
Automatic recording of entry and exit time through scanning the barcode in the pass.
Multi-functional reports like,

Number of visitors during the day,particulars of visitors, list of visitors not checked out during the day, number of visitors inside the office at any point of time, analysis of visitors during peak and non-peak hours, visual presentation using graphs, charts and pie-diagram, accuracy of data (many times phone numbers are wrongly written or not readable when done by security staff manually), ease of retrieval of data during past period.

Data with visitor photos can be stored in local server and cloud
Some of the main features are:
Web Based Application with Emirates ID & Passport Integration
Multilingual – Arabic & English Layout
Fully Customizable as per Client requirements
Mobile Application Available
Appointments Module (Pre-registration)
Advanced Reporting Features (Export to PDF, Excel, Word etc.)
Workflow Approvals
Email & SMS Notifications
Web Camera Integration
User Roles & Privileges
Unlimited Visitors Registrations
Unlimited General Users