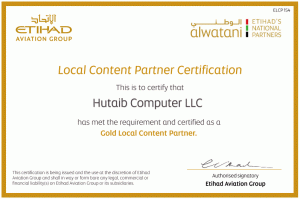 Small

Business Elite 2018
I am getting in touch today to advise you that Hutaib Infotech Solutions has been selected for inclusion in Worldwide Business Review Magazine's upcoming 2018 Small Business Elite, with the exclusive title of:
Leaders in Surveillance Systems – UAE
Worldwide Business Review is looking to commend the truly outstanding small businesses that are trail-blazing, developing, innovating, and growing within their sector. As such we launched the Small Business Elite last year to recognize those that are going above and beyond, but rarely receive the recognition they deserve. Like last year, we recognized 50 firms from around the world, in sectors such as; law, finance, retail, energy, recreation, and construction.
All of those listed in this program are automatically entitled to a complimentary digital certificate, simple listing in the magazine (naming Hutaib Infotech Solutions as a winner), and full rights to the above logo and title to use as you wish going forwards.
Hutaib InfoTech Solutions

Wins the Elite Certificate of Appreciation for CCTV Video Surveillance
Hutaib Infotech Solutions is an emerging leader in the field of ICT, networking, access control, and surveillance. It has proven capabilities in this niche domain with help of cutting edge services, supplies and solutions. The company's credibility is strengthened by the various merits and recognition it has garnered over the last few years. It recently added another feather in its cap, when it was conferred a recognition at the prestigious INTERSEC conference in January 2016.
Hutaib InfoTech Solutions wins accolades at elite event
The INTERSEC event is by far the biggest security and safety trade fair and exhibition in the world today. It is held in high esteem by industry veterans for its immense popularity and the tremendous networking potential it offers to businesses in this domain.
Hutaib InfoTech Solutions was recognized for its exceptional Solutions and Performance delivery for the fiscal year 2015-16 by WatchNET International, a leading Canada based manufacturer/supplier of quality video and surveillance solutions. The award signifies the immense value added projects Hutaib InfoTech Solutions has carried out for WatchNET in the field of high quality modern day CCTV Video Surveillance for the entire year.
With more than 31000 visitors and more than 1250 exhibitions, the INTERSEC event provides a tremendous brand visibility. By winning the recognition at this exclusive event, it ensures an indelible impression of Hutaib InfoTech Solutions on prospective customers and existing accounts.
Hutaib InfoTech Solutions

honored at Intersec Awards, Dubai 2015
Hutaib InfoTech Solutions was awarded the coveted Performance Award at the prestigious Intersec Trade Fair, Dubai on 18th January 2015. The award was conferred in recognition of Hutaib InfoTech's stellar efforts in the field of Enterprise Security, Video Surveillance and Information and Communication Technology. The distinction is a significant achievement for Hutaib and its credibility gets a tremendous competitive boost with this award. The accolade was awarded to Hutaib for its far-reaching promotion of WatchNET DVR Limited's video, security and surveillance equipment across UAE.
Mr. Shabbir Hussain from Hutaib Infotech received the award at the event from WatchNET Canada's CEO and General Manager. Speaking on the occasion, Mr. Hussain said "The award signifies Hutaib's position as a leading ICT and Security solutions specialist in UAE and GCC countries. We are happy that our professionalism and versatility has been distinguished on such a prominent platform."
Why

HUTAIB InfoTech Solutions?
Esteemed customers in UAE and Dubai will agree that they cannot find a more reliable partner than HUTAIB IS to provide immense customer satisfaction, maximum ROI, and amazing professionalism with the various ICT services, solutions and ICT infrastructure supply that we deliver.
Our team of professionals displays a remarkable blend of creativity and practical application with the ideas and solutions devised to meet your specific set of business problems. All the surveillance solutions, hardware equipment's, software and services we provide, display enormous emphasis revolving on meeting customer needs with ease.