What is

CCTV Surveillances System?
CCTV or Closed Circuit Television refers to a visible or covert video system intended for only a limited number of viewers. In CCTV, the picture is viewed or recorded, but not broadcast. It was initially developed as a means of security for banks and casinos; however, today it has been developed to the point where it is simple and inexpensive enough to be used with Home or Office Security Systems, and for everyday surveillance. CCTV is a monitoring system that allows a business to record footage based on the system's programming. CCTV Systems are often implemented because they:
Deter theft,
Reduce vandalism,
Monitor high risk or secure areas,
Ensure quality control,
Decrease liabilities (ex. fraudulent injury claims),
Increase safety for staff in facilities and parking areas,
Provide evidence by recording from the earliest stages of break-in attempts,
Confirm remote processes are running properly.
Solar & 4G Connectivity

enabled Surveillance & Intrusion Detection Cameras
Integrated Security & Automation Solutions from a

SINGLE SOURCE
Types of

CCTV Cameras Technology
Analog: A traditional set-up where the cameras are connected via coaxial cable to a Digital Video Recorder (DVR) or monitor.
IP: A mainstream, higher quality camera set-up that connects to a networked server, allowing footage to be recorded and viewed anywhere via the internet.
Hybrid: For businesses with analog cameras looking to add to existing units, a hybrid system allows both analog and the higher quality IP cameras to run off the same DVR.
5 Reasons Why

CCTV Systems Are Important To Your Business?
CCTV systems are imperative for all businesses, whether you operate an office of 100 or own a local restaurant. They are one of the best ways to ensure commercial security for your business. But why should you choose to have a Security Surveillance System installed? Aren't they expensive and complicated to operate? Aren't they only meant for gold shops and banks? Here are some things you should know about CCTV Surveillance Systems, which should hopefully clear your doubts and convince you to get one installed in your business today.
They are the perfect deterrent: Only the sight of CCTV cameras on your property is enough to scare off most burglars and make them think twice before breaking in. This is especially useful for small businesses because they are most targeted by thieves and burglars, sometimes even during the day. They are the perfect deterrent for thieves, burglars and other trouble makers that look on harming you and your business.
Surveillance Systems aren't expensive or complicated: CCTV surveillance systems are neither expensive nor complicated to operate and maintain. Many of the best companies that sell CCTV surveillance systems send technicians to install and train their customers on using them. They aren't that expensive as many think them to be, with high quality, high resolution CCTV cameras available with price tags that are suitable even for private residential use.
They are Impenetrable: Invading a complex or business under CCTV surveillance by hiding from the CCTV cameras can only happen in Hollywood heist movies, not in real life. A well set up CCTV system is practically impenetrable, with multiple cameras keeping an eye on each other's' blind spots in addition to keeping an eye on the most vulnerable areas on your property and business. Again the best companies send down technicians for site inspections on customers' property or office space to advise them on the best possible CCTV setup.
They Provide You with Remote Surveillance: CCTV Surveillance is a great solution to keep an eye on your property or office in real time. In addition to keeping an eye out for vandals, you can also keep an eye on your employees to prevent unwanted employee behavior and increase their efficiency and productivity.
They are Simply Indispensable: The most important reason why a CCTV surveillance system is important to business is simply because it is! Every business, big or small, has vulnerable areas like high security storage spaces where sensitive data is stored, or simply cash registers for obvious reasons. CCTV surveillance systems let you watch over these areas so they are protected at all times while also providing you with evidence in case something does go wrong.
Video Surveillance Solutions for All Verticals
Security is needed in every walk of life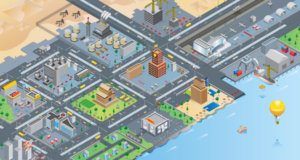 Security and safety are amongst the main challenges that we face on our daily lives. The need to control access, the safety of staff and assets, protection against threats and hackers, the handling of volatile and hazardous materials in our environment, are common for all industries, whether residential, commercial or industrial.
Hutaib InfoTech Solutions is your gateway to find the right security solutions you're looking for in every urban environment.
Hutaib InfoTech Solutions offers you a higher standard of surveillance products that caters to all sectors, including the following essential industries: