EVOKO is the latest Meeting Room Reservation and Scheduling System which is the market leader and bench mark for other products for the room booking system. Unlike most products in the market, EVOKO is a one-time purchase, no subscription, no licensing or any hidden charges and the support is free of cost. Evoko is being used by multinational companies and government entities all over the world.
Given below the Solution Features and the Product Datasheets.
The system can be managed through a centralized Software or Microsoft Outlook and other platforms as well.
Device can be worked on Ethernet or Wi-Fi (POE or Power Adapter if Wi-Fi)
The devices support 23 languages which includes Arabic and English as well.
The device comes with the software and we have support team who would assist you further.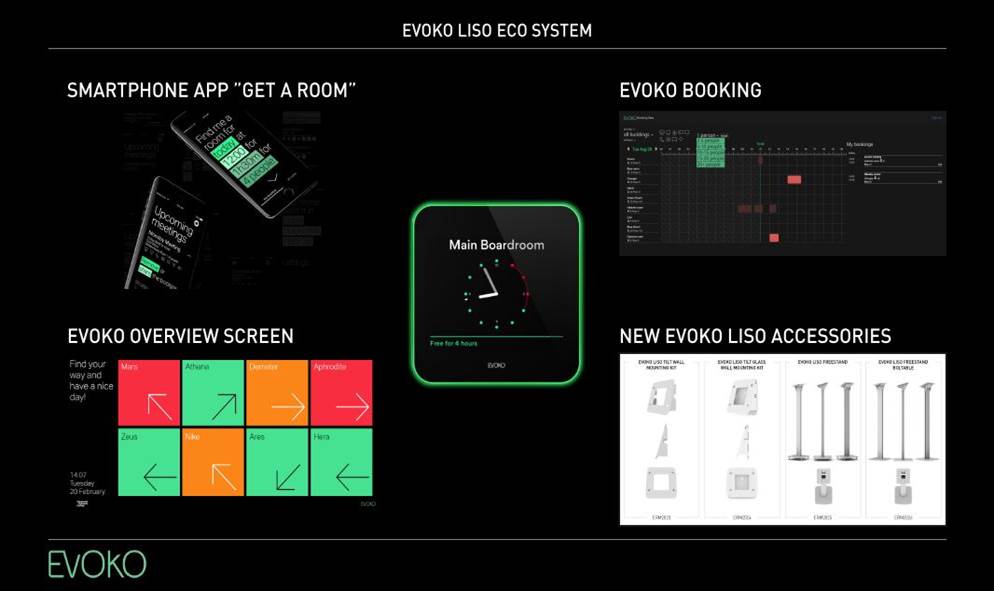 EVOKO LISO
10 Inch screen with 8" capacitive touch with anti-fingerprint treatment.
Works with both POE or Wi-Fi.
Supports RFID (MIFARE 4K/1K card).
Built in Proximity Sensor and ambient light sensor.
Could be mounted on both standard and glass walls.
3-way indirect light aura to make room status visible from a distance.
Open API for third party integration.
Remote management with multi-site support.
Evoko supports the following Messaging Systems,

Microsoft Exchange
Microsoft Office 365 / Microsoft Outlook
Google G Suite
IBM/Lotus Domino Smart cloud
IBM/Lotus Domino 8.5.3 or later
Evoko Booking (stand-alone version) Beta