Protecting People, Assets and Securing a Smart Access
A Smart Entrance Management system are generally used to Allow or Block the access.
Vehicle barrier systems are generally installed on parking facilities, checkpoints and entrances in order to restrict areas and to control passage through toll booths.
Enterprise

Managed Solution
Integrated Access Security System that constantly monitors all the equipment and connected sub-systems and allows remote configuration thus avoiding expensive interventions on site. The system automatically applies the best intervention rules based on the type of situation that occurs.
Manages an unlimited number of companies, branches and users and guarantees total confidentiality of data. Access to software and all internal information is protected tracing all the operations carried out by operators with audit trails.  Strict visibility rules to guarantee confidentiality and privacy, abiding to rigorous industry standards.
Versatile
Simple: The WEB interface allows functions to be personalized according to the type of operator.
Secure: It constantly keeps all managed systems under control, allowing automatic reactions to specific events.
Precise: Updated situation on employees and visitors inside the company in real time.
It provides information by email, SMS or APP.
Integrated and customizable: The various Modules allow integration with third-party software and hardware.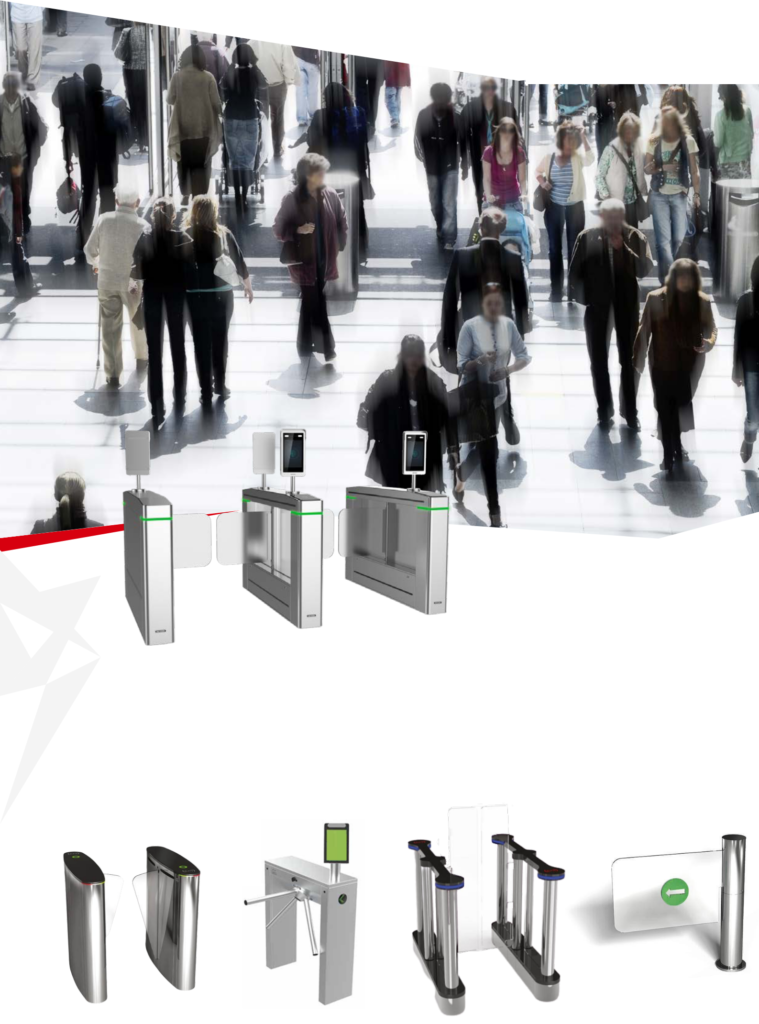 Solution Features
Heavy Duty
Two-way movement
LED Direction Indicators at Each side
Integration Support with any RFID/Biometric
IP Protection Rating
SMART ENTRANCES MAKING ACCESS SAFER & SECURE
Easily deployed at Lift Lobbies, Offices, Gyms/Health clubs & Public places
Secure areas inside open offices
High quality stainless steel. Stainless steel meets the AISI304 standard.
Normal and Disabled models meeting Regulatory standards.
Integration with third party Access Control systems and support Facial, Biometric and Cards.
Quicker passage speed up to 40 persons/minute.High throughput at 30 – 40 persons per minute.
Prevents unauthorized access through integrated sensors & alarms
Highest safety standards assuring zero causalities.Anti-crash swing panel.
Impeccable Quality & Security standards
Designed and manufactured by Best-in-class quality and the highest efficiency
Anti-crash protection with 1.5 mm stainless steel
Guaranteed 5 million gate swings
6/14 pairs of IR Detectors
Flexible options with customizable width and number of passages
Immediate response (less than 0.5 seconds)
Easily interfaced with Third party systems