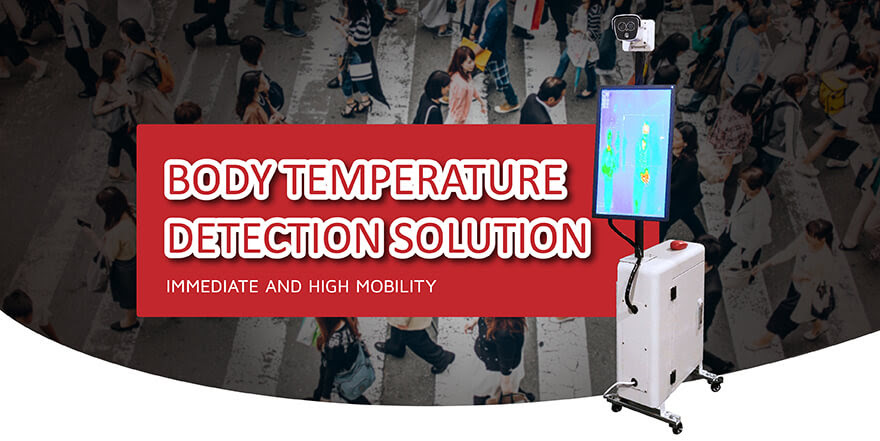 High-speed ability

to scan multiple human temperatures
Hutaib InfoTech Solutions stands with everyone for dragging on Coronavirus outbreak. A Check Point Body Temperature Measurement Solution for checking body temperature at check point at any time such as school, commercial building and construction site entrance to secure public health.
Thermal camera detection can detect human body temperature within the range of 5 meters and reduce the probability of contact at the same time. The system can detect human body temperature quickly , and achieve to Fever Screening effectively.
Monitor, detect and alert fever at high speed & sensitivity with integrated thermal images. Start prevention and protect your environment from infectious outbreaks at low cost today.
It is well-known that one major symptom of virus infections is fever. Therefore, thermal camera with high temperature accuracy can detect the elevated body temperature to make the preliminary screening.

How does a

Check Point Body Temperature Detection Solution works?
Any object with temperature above absolute zero emits a detectable amount of radiations. Thermal camera converts IR radiations into gray value, and establishes the accurate corresponding relation between gray value and temperature through the temperature measurement algorithm model. The model (Temperature Gray Level Curve) is obtained by black-body calibration.
Place the device at the entrance to detect human temperature automatically within the set range.
Immediate alert and Screenshot archiving if abnormal body temperature be detected; also facilitate public health and safety management.
Body Temperature Measurement Thermal Camera integrated with designed portal and RD unit. Detect abnormal body or object temperature. Trigger alarm to alert personnel.

Top Advantages

You Must Know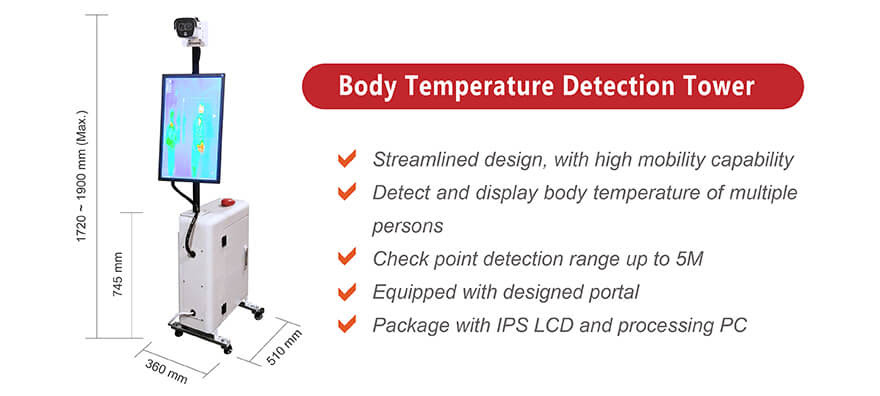 Ready to use out of the box with minimal setup required
Ultra-low false alarm rate: temperature can be set at fixed distance to increase the accuracy rate.
Cost-effective and saving manpower. Reasonable low price for such system.
Snap-shot of person with abnormal temperature detected.
This economic solution is designed for medium-small applications (schools, offices, small shopping malls, etc.).
As recommended thermal camera detection distance is ~5 Meters and covers one wide door/entrance area. Temperature measurement accuracy is +-0.3C.
It takes only one second that thermal camera can detect temperature of each person. Thus, no congestion will be made when passing through the site where temperature needs to check.
Thermal camera supports non-contact temperature measurement which can achieve accurately measuring temperature around 1 meter away. That reduces the risk of infection coming from physical contact.
Streamlined design, with high mobility capability.
Key Features

of the Solution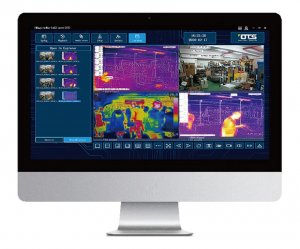 Dynamic Temperature Calibration – Intelligent passive blackbody technology, that accurately measures temperature in real-time, optimized for complex scenarios.
High Speed Temperature Measurement – Accurate temperature measurement for multiple people at the same time, also supporting multiple relays to operate with access control systems.
Non-contact Temperature Measurement – Supports non-contact measurement of multiple people up to distances of 5 meters.
Optimized Detection Model – Optimized detection model that identifies the forehead to measure the temperature of people even if they are wearing masks or hats. Forehead detection rate is > 99.9%.
Ultra-Precise Temperature Measurement – High accuracy within the range of 30°C – 45°C, with accuracy as high as ±1°C, in indoor conditions.
High Throughput – Ability to accurately measure the temperature of 6-8 people simultaneously.
Non-contact

Body Temperature Measurement System Based on Artificial Intelligence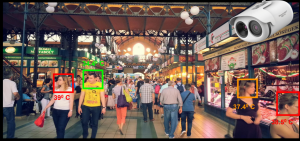 A PNEUMONIA

FROM A NEW CORONAVIRUS BROKE OUT

Guiding Principles

for Prevention & Control of Infectious Diseases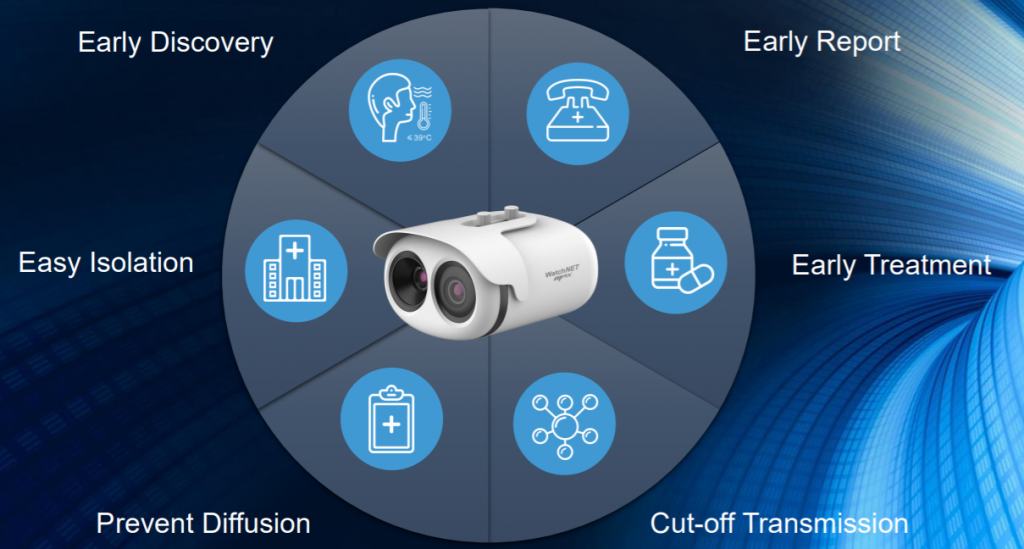 Pain Points of

Traditional Temperature Measurements for Preventing Infectious Virus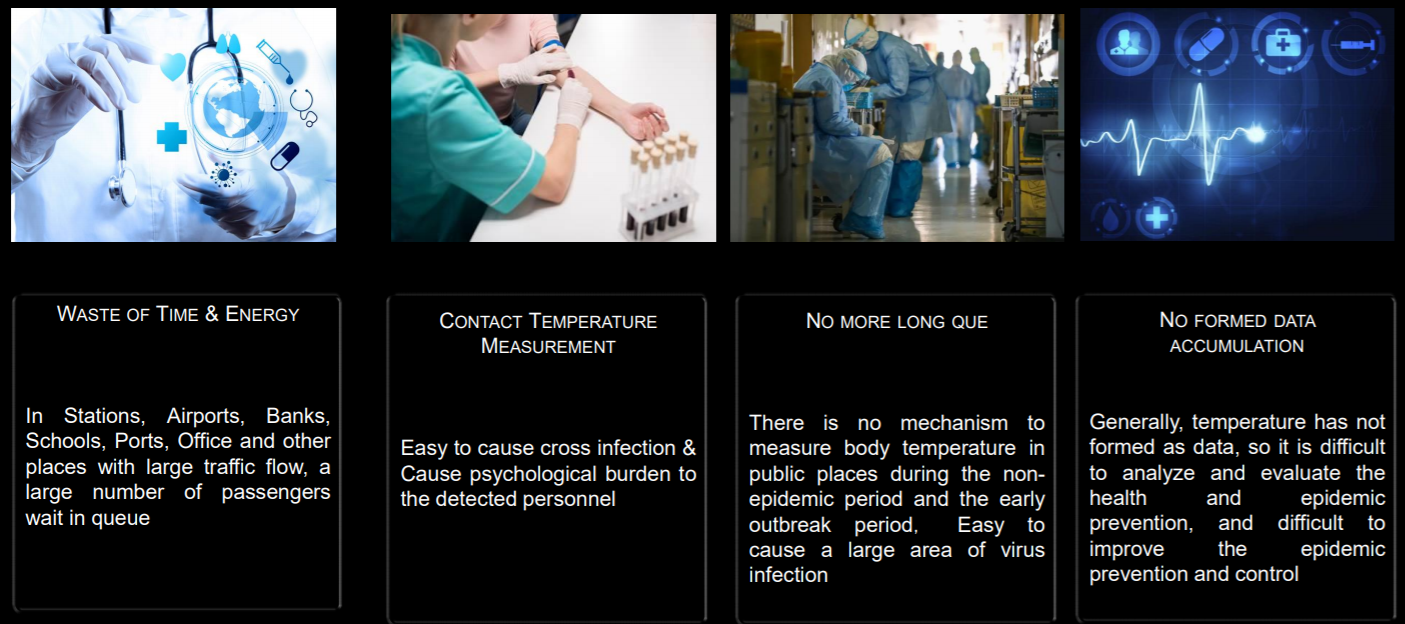 Technology that

helps in finding body temperature
ADVANTAGE OVER

TRADITIONAL SYSTEM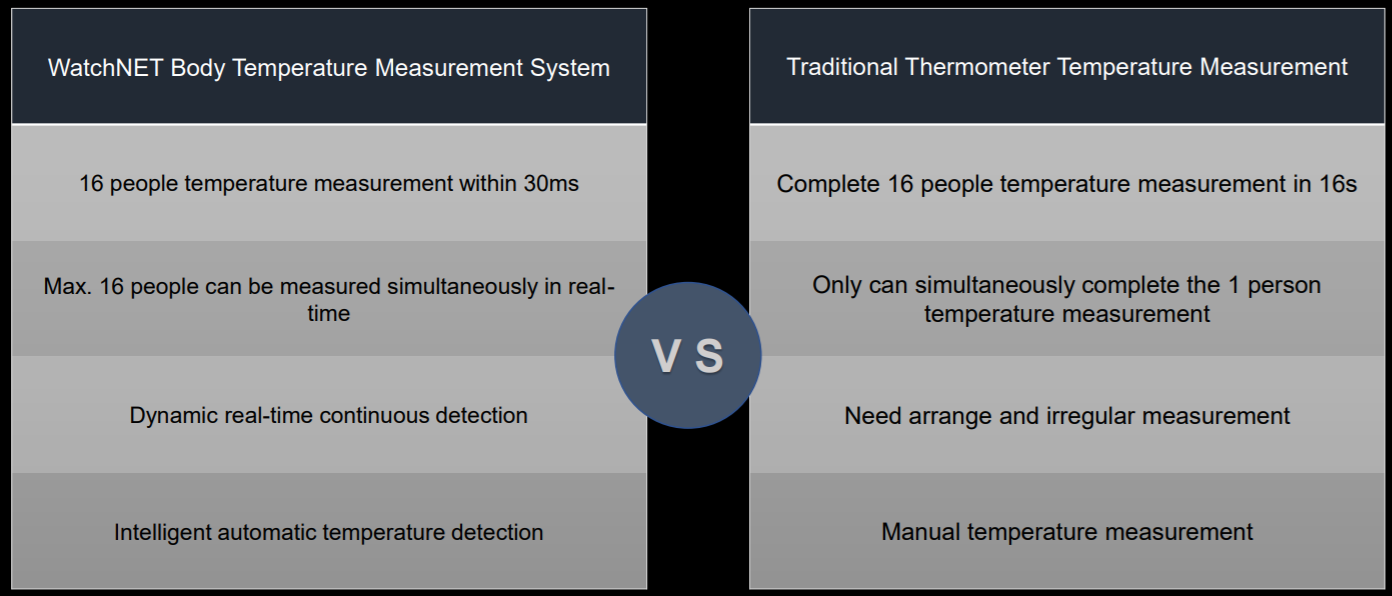 BODY TEMPERATURE

MEASUREMENT SYSTEM