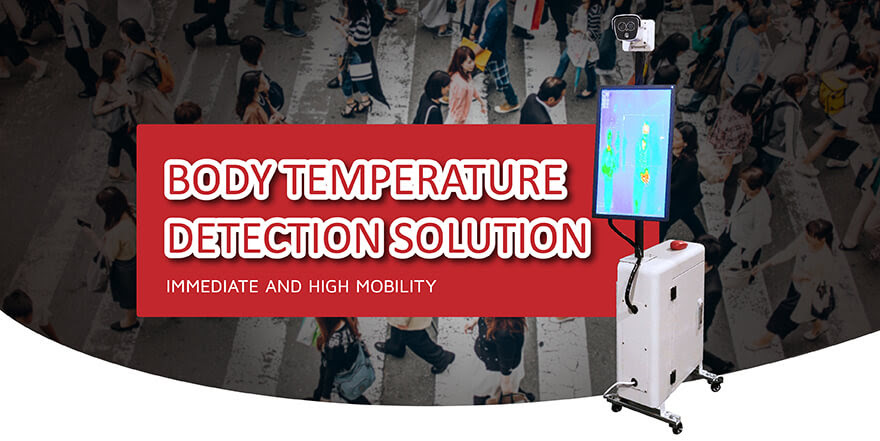 High-speed ability

to scan multiple human temperatures
Hutaib InfoTech Solutions stands with everyone for dragging on Coronavirus outbreak. A Check Point Body Temperature Measurement Solution for checking body temperature at check point at any time such as school, commercial building and construction site entrance to secure public health.
Thermal camera detection can detect human body temperature within the range of 5 meters and reduce the probability of contact at the same time. The system can detect human body temperature quickly , and achieve to Fever Screening effectively.
Monitor, detect and alert fever at high speed & sensitivity with integrated thermal images. Start prevention and protect your environment from infectious outbreaks at low cost today.
Reopening Of Business and Thermal Scanners as per UAE Guidelines
One of the Main requirement by UAE government to reopen the business is to include testing of all staff for Covid-19 by installing thermal cameras or manually take the temperature and ensuring social distancing protocols are adhered.
There are lots of question about which camera best suits for the business needs. Following are the easy way to find out which thermal scanners the best for your situation.
Thermal Tripod Bullet Camera (Recommended)
If any of the answer of following question is YES then you need Thermal Tripod Bullet Camera.
Do you have frequent visitor in your office?

Do you have staff of more than 5 people?

You don't have anyone at reception/ entrance to monitor incoming staff/ visitors.

Visitors/ staff may come and go in a group.

You need to save fever scanning results to be used and refer in case any case is reported.

You don't want to recharge battery every 8-9 hours.
Handheld Camera (Limited Functionality)
If all of the answer of following guidelines are YES then you can use Handheld Thermal Scanner.
You don't have frequent visitor in your office.

You don't have staff of more than 5 people.

You  have someone at reception to monitor incoming staff/ visitors.

Visitors/ staff may come and go one by one.

You can save fever scanning results manually for everyone.

You can replace battery when needed.
It is well-known that one major symptom of virus infections is fever. Therefore, thermal camera with high temperature accuracy can detect the elevated body temperature to make the preliminary screening.

How does a

Check Point Body Temperature Detection Solution works?
Any object with temperature above absolute zero emits a detectable amount of radiations. Thermal camera converts IR radiations into gray value, and establishes the accurate corresponding relation between gray value and temperature through the temperature measurement algorithm model. The model (Temperature Gray Level Curve) is obtained by black-body calibration.
Place the device at the entrance to detect human temperature automatically within the set range.
Immediate alert and Screenshot archiving if abnormal body temperature be detected; also facilitate public health and safety management.
Body Temperature Measurement Thermal Camera integrated with designed portal and RD unit. Detect abnormal body or object temperature. Trigger alarm to alert personnel.

Top Advantages

You Must Know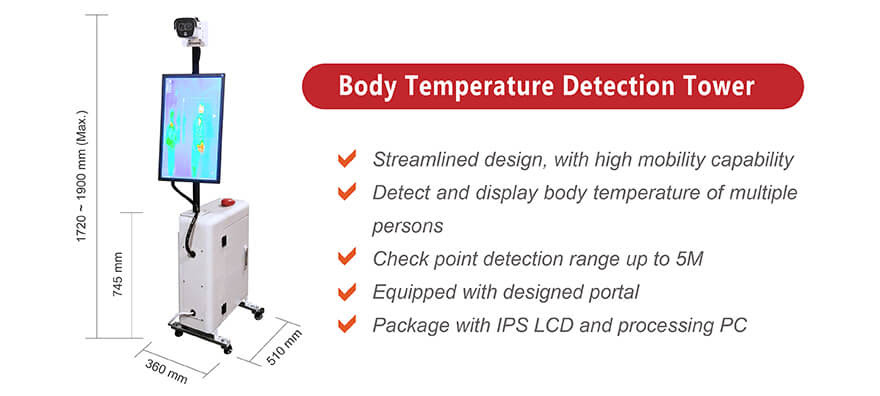 Ready to use out of the box with minimal setup required
Ultra-low false alarm rate: temperature can be set at fixed distance to increase the accuracy rate.
Cost-effective and saving manpower. Reasonable low price for such system.
Snap-shot of person with abnormal temperature detected.
This economic solution is designed for medium-small applications (schools, offices, small shopping malls, etc.).
As recommended thermal camera detection distance is ~5 Meters and covers one wide door/entrance area. Temperature measurement accuracy is +-0.3C.
It takes only one second that thermal camera can detect temperature of each person. Thus, no congestion will be made when passing through the site where temperature needs to check.
Thermal camera supports non-contact temperature measurement which can achieve accurately measuring temperature around 1 meter away. That reduces the risk of infection coming from physical contact.
Streamlined design, with high mobility capability.
Key Features

of the Solution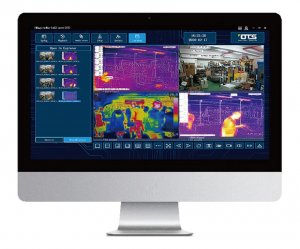 Dynamic Temperature Calibration – Intelligent passive blackbody technology, that accurately measures temperature in real-time, optimized for complex scenarios.
High Speed Temperature Measurement – Accurate temperature measurement for multiple people at the same time, also supporting multiple relays to operate with access control systems.
Non-contact Temperature Measurement – Supports non-contact measurement of multiple people up to distances of 5 meters.
Optimized Detection Model – Optimized detection model that identifies the forehead to measure the temperature of people even if they are wearing masks or hats. Forehead detection rate is > 99.9%.
Ultra-Precise Temperature Measurement – High accuracy within the range of 30°C – 45°C, with accuracy as high as ±1°C, in indoor conditions.
High Throughput – Ability to accurately measure the temperature of 6-8 people simultaneously.
Non-contact

Body Temperature Measurement System Based on Artificial Intelligence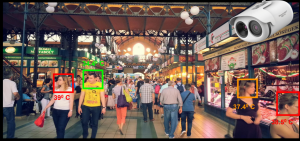 A PNEUMONIA

FROM A NEW CORONAVIRUS BROKE OUT

Guiding Principles

for Prevention & Control of Infectious Diseases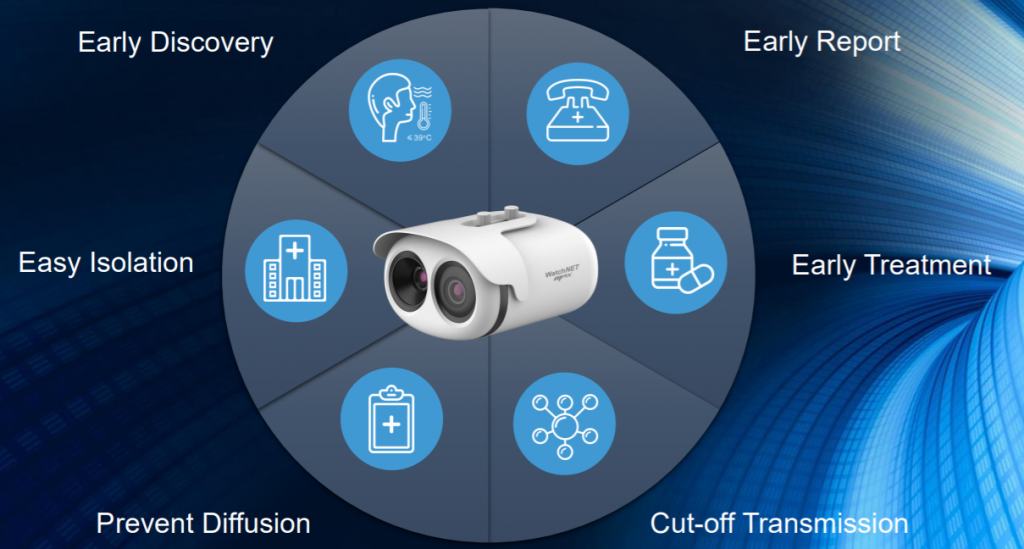 Pain Points of

Traditional Temperature Measurements for Preventing Infectious Virus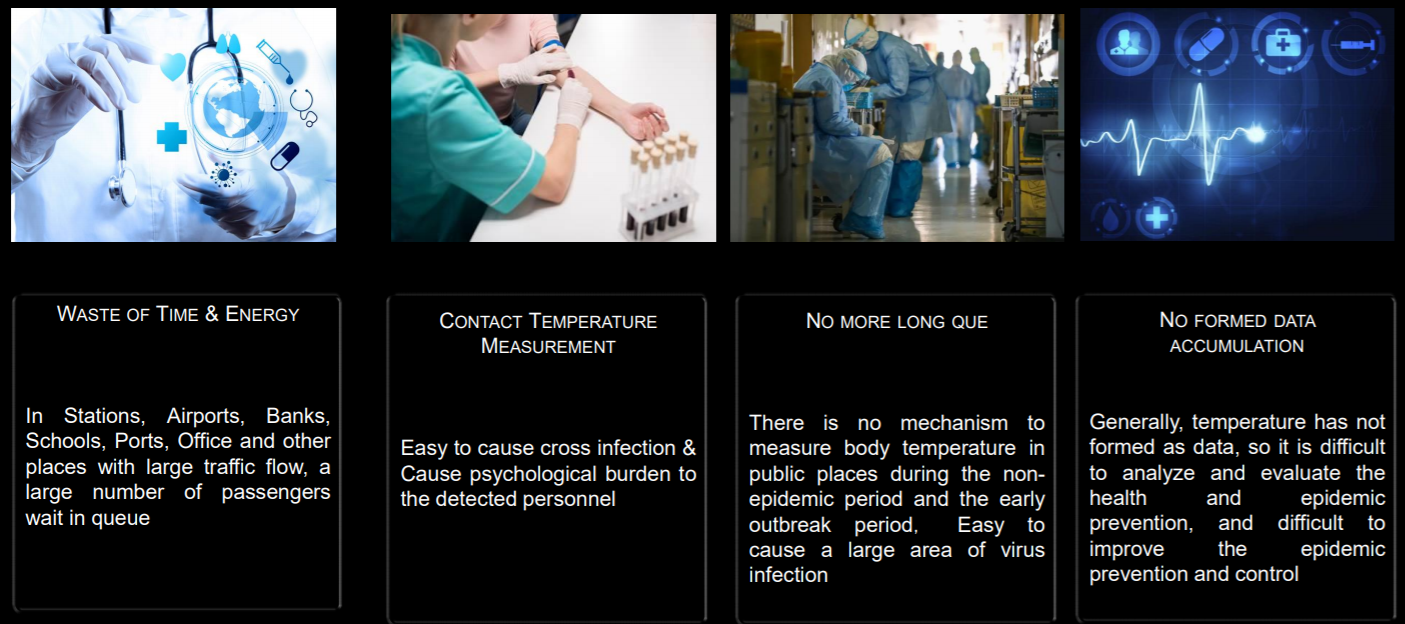 Technology that

helps in finding body temperature
ADVANTAGE OVER

TRADITIONAL SYSTEM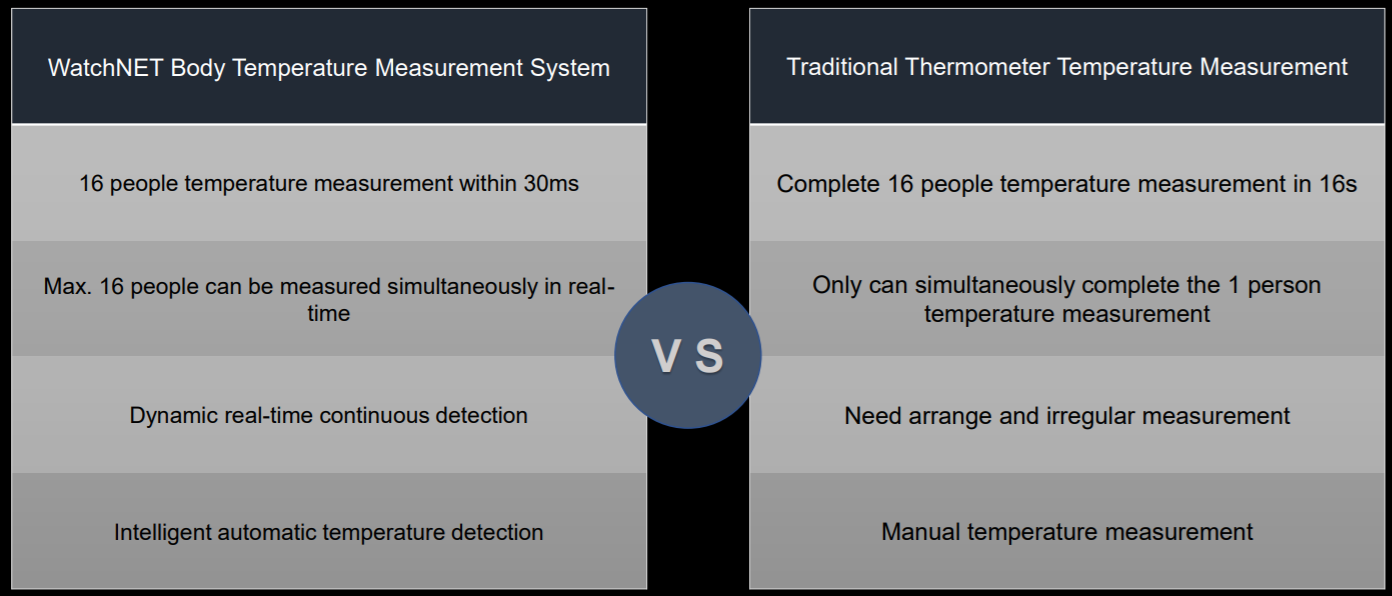 BODY TEMPERATURE

MEASUREMENT SYSTEM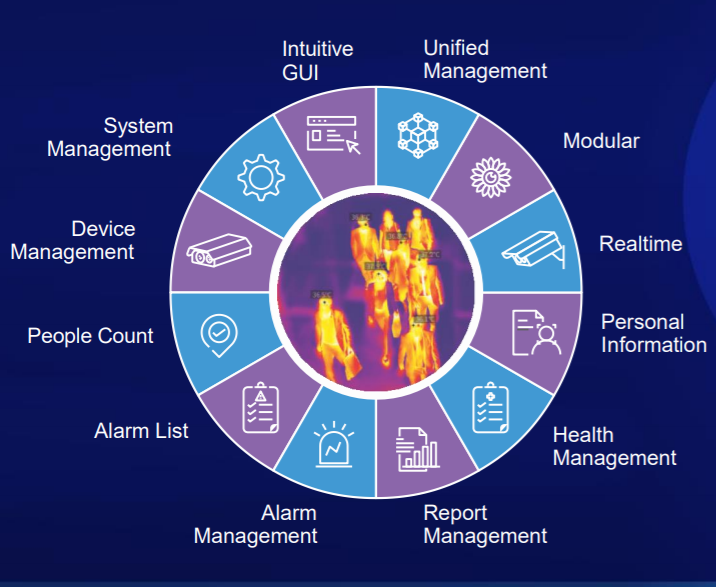 Frequent Asked Questions

(FAQs)
Is face recognition with mask supported?
Yes. Face recognition algorithm performance of BrainPlus Technology is taking leading place in the industry. With 80K size portrait basebase, recognition accuracy is higher even wearing mask.
In which scenarios could the body temperature measurement of thermal imaging + face recognition solution be applied?
This Solution can be applied in scenarios as subways, airport, railway stations, bus stations, port terminals, schools, residential areas, hospitals, office buildings, shops, etc.
Comparing to traditional ear/forehead thermometer, what's the advantage of Body Temperature measurement of thermal imaging?
Thermal imaging is a kind of contactless temperature measurement method, it has bigger ranging than traditional ear/forehead thermometer, which effectively reduce infection risk of staffs.
Multiple passengers can be measured simultaneously by one thermal imaging camera, while traffic efficiency wouldn't be affected in venues having large traffic like subways, bus stations, airports, meanwhile manpower could be saved tremendously.
Staffs can intuitively view real time monitoring screen and thermal imaging images, combined with abnormal body temperature alarm pop up and Audio & Video Alarms, emergency measures can be taken responsively.
What Measurement Accuracy able to fulfill the real demand?
For this epidemic, according to <New Pneumonia Prevention and Control Knowledge Manual> published by official authority platform, if people with COVID 19 pneumonia early clinical manifestations temperature 37.3℃ should go to designated medical institutes for diagnosis and treatment.
Thermal imaging system accuracy is highly demanded. ±0.5 accuracy would generate more false alarm than ±0.1℃, especially in large traffic venues like subways, bus stations, airports.
For instance, if the actual body temperature of a person is 36.8 ℃; 37.3 would be measured by ±0.5℃ accuracy system that would cause false alarm. The accuracy of BrainPlus thermal imaging body temperature measurement is ±0.1℃.
Could Thermal Imaging Body Temperature measurement equipment be installed Outdoor?
No. According to the principle of thermal imaging, environment temperature has big impact on temperature measurement accuracy. The environment is changeable outdoor, unsuitable for thermal imaging body temperature measurement.
If clients already have thermal imaging equipment, what's the extra value our solution can add on?
Beside temperature measurement, BrainPlus is able to:
Optimize system temperature measurement accuracy by using BrainPlus AI temperature measurement algorithm.
Improve system value and safety by adding high accuracy face recognition for mask and unmask scenarios.
System can be interface and connect to existing systems.
How is the equipment powered?
Both Thermal imaging Camera and Automation Host Server need separated power supply.
After epidemic, could the equipment be used for security monitoring?
Yes. Our system just needs to change with a software release, choose video stream of thermal imaging camera, then MegThermal can be used as security monitoring Solution.