Effective Branch Network Management with 4ipnet Enterprise Solution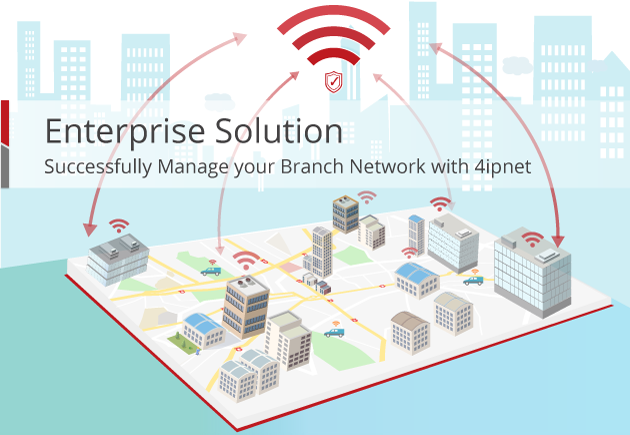 Since BYOD has assumed its role as an industry standard, enterprises are now facing new challenges on how to manage their wireless networks, let alone the centralized management of branch offices. However, 4ipnet solution for enterprises provides a secure and reliable Wi-Fi with unified BYOD policies. A large Japanese company which has over 40 branch offices in Japan is having a pressing need to improve their network security, centralize management, and control the costs of branch networking.
To complete the branch networking requirements, 4ipnet's WHG Controllers were implemented successfully at the enterprise headquarter with 2+1 High Availability for seamless network service and 1,250 pieces of 4ipnet's APs were deployed at over 40 branch offices. By building complete tunnels between the APs and the WHG Controller, network administrators can ensure that all sites have the same user policies and network resource access.
4IPNET SOLUTION
Robust Design with 2+1 High Availability:
4ipnet's WHG gateway-controller can be connected to 2 WAN links from separate ISPs for redundancy and load balancing purposes. Moreover, the entire system can be implemented successfully in High Availability, mitigating the potential lost productivity in the event of network downtime. And with the ability to configure backup AP management controllers for remotely managed APs, network administrators can guarantee seamless network operation and management.

Flexible Tunnel Configuration:
4ipnet accepts & allows network operators to independently configure & test tunneling between the central WHG gateway-controller & the remote APs to fulfill specific security and performance requirements. For business/corporate employees requiring stricter security, all of the data traffic can be tunneled back to the gateway in the headquarters for unified policy enforcement.


WHG802
Wireless LAN Controller

EAP760
Wireless Access Point