Automatic Hand Sanitizer Digital Signage Kiosk
The Automatic Hand Sanitizer Dispenser Self Service Kiosk is not just a dispensing unit but it also has a medium size screen which will keep displaying the precautions and other public service messages to encourage people to sanitize their hand more often.
The messages can be displayed in multiple languages and in multiple multimedia formats. The screen can also be used for advertisements purposes and it serves as a full fledged signage as well. Which makes this product more useful friendly and useful.
As everyone is trying to maintain social distancing such signage could help people and organizations to spread awareness for the social distancing and also aiding them by allowing them to get the sanitizer solution without even touching anything.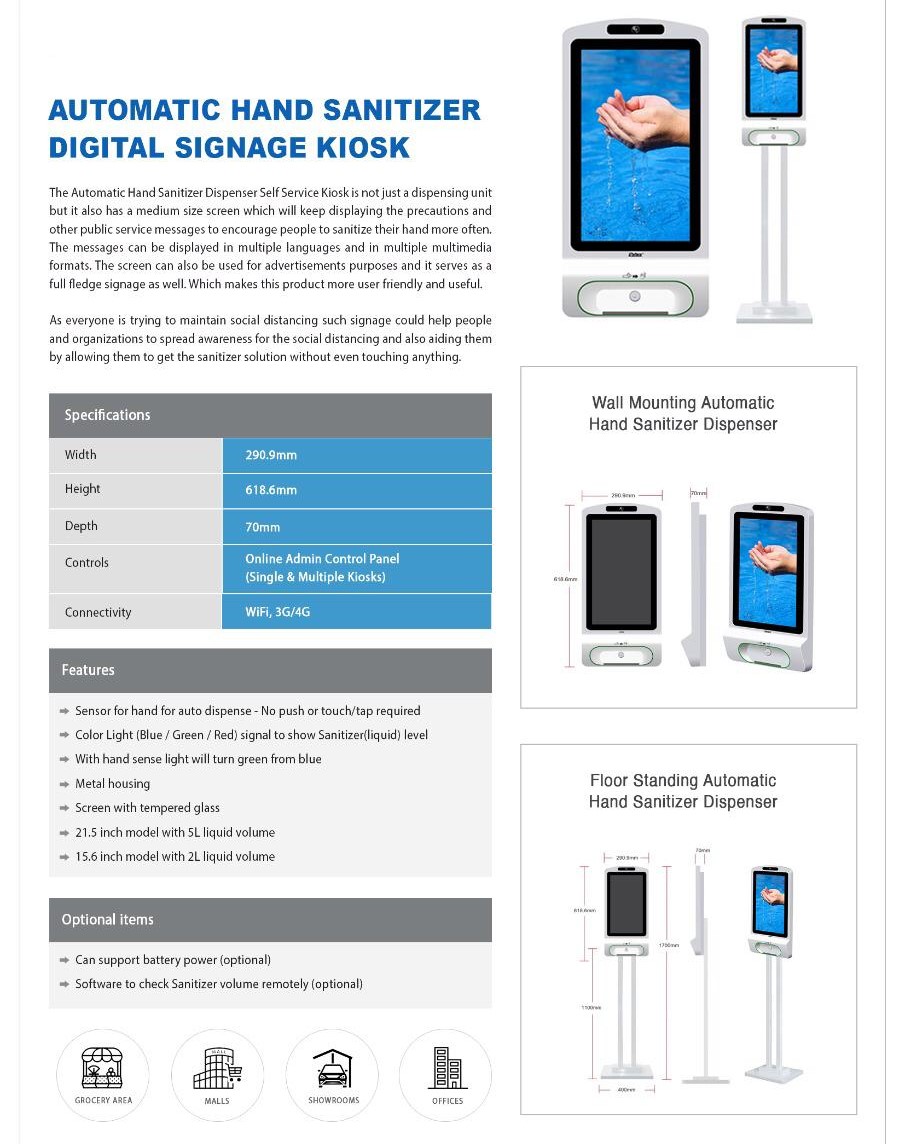 Features
Sensor for hand for auto dispense – No push or touch/tap required.
Color Light (Blue/Green/Red) signal to show Sanitizer (liquid) level
With hand sense light will turn green from blue
Metal housing
Screen with tempered glass
21.5 inch model with 5L liquid volume
15.6 inch model with 2L liquid volume
Optional Items
Can support battery power (optional)
Software to check Sanitizer volume remotely (optional)

Available In
Wall Mounting Automatic Hand Sanitizer Dispenser
Floor Standing Automatic Hand Sanitizer Dispenser
Advertising Player with Automatic Hand Sanitizer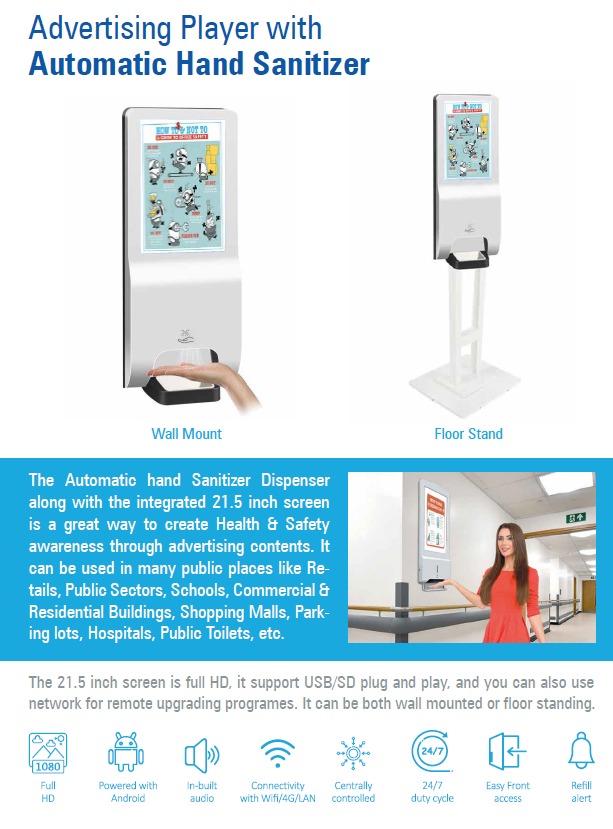 The automatic hand sanitizer dispenser along with the integrated 21.5 inch screen is a great way to crate Health & Safety awareness through advertising contents. it can be used in many public places like Retails, Public Sectors, Schools, Commercial & Residential Buildings, Shopping Malls, Parking lots, Hospitals, Public Toilets, etc.
Th 21.5 inch screen is FULL HD, it supports USB/SD plug and play, and you can also use network for remote upgrading programes. It can be both wall mounted or floor standing.